Hawaii real estate prices have gone up rapidly for the past several years, and this week the Board of Realtors said that median home prices have now reached $978,000, while median condo prices reached $457,750. Activity was up, with the average home selling in only 8 days.
And I still think Hawaii real estate is undervalued by a lot.
Since Covid began, we have had many clients moving from CA, NY, NJ, WA, and other states, where people sold their $3 million homes and moved to Hawaii seeking 'paradise.' Most of the buyers felt that Hawaii real estate prices were low, especially when property tax is taken into consideration.
I'll compare 2 similar homes to prove my point.
The first one is this marina front home in Huntington Beach, CA, for $3,495,000, with property taxes of $3641 per month. Yes, the taxes alone are $43,692 per year. I grew up in HB and moved to Hawaii 16 years ago, and I think Hawaii Kai is a very similar town that is worth comparing.
In HB right now, this property is in escrow - 3380 sqft, 4 bed, 3.5 bath, a beautiful home with a dock. This is in the neighborhood where my dad lived for many years, Huntington Harbor.
It has a beautiful kitchen, wide open living space, and is fully renovated, being built in 1976.
So how does it compare to Hawaii?
The house below just sold in Hawaii Kai for $2.92mil, $580k less in price, BUT nearly a million less with property tax considered. The Hawaii Kai marina front property has property taxes of only $1083 per month - that's $2558 less per month in taxes.
For reference, $2558 per month can cover about $550,000 of mortgage at 3.75%.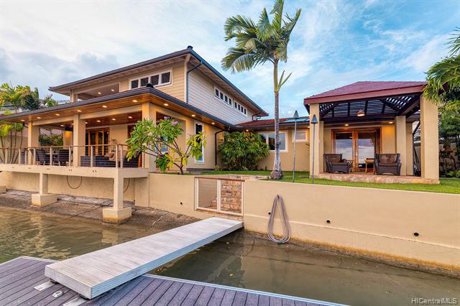 So when you factor in the property tax, the house in CA costs $1million more than a similar house in Hawaii Kai, on the East side of Oahu, the nicest part in my opinion.
This was actually my next door neighbor about 14 years ago. It has a beautiful wide open layout just like the house in CA.
And this Hawaii Kai property also had a pool AND a legal rental upstairs, so I can easily add another $500k to the comparison!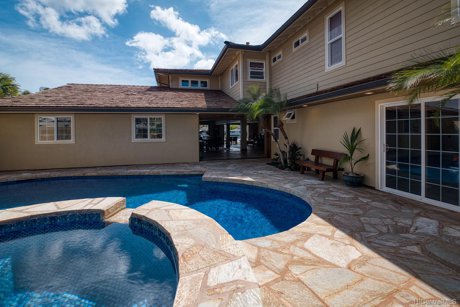 Bottom line - A similar property in CA will cost you about $1million - $1.5mil more after factoring the property tax, and the one in Hawaii even has a rental that likely rents for over $2500 per month.
Hawaii real estate is still WAY under valued, and in my opinion could run higher for the next 2-3 years, until people stop fleeing CA and WA. When will that be?
The telecommuter era is upon us. Zoom and Google Meet are the new way to do business. Silicon Valley is a dumpster fire, and people want to escape to Hawaii.