Waipio Real Estate Info
Located between Pearl City, Mililani and Waikele, Waipio is a suburb that's easy to overlook. However, because of its short distance from those communities and with its convivence of being in Central Oahu, there's some very distinct advantages to living there. Homes range from about $850k to over $1mil, as of 2022.
Like most of Central Oahu — including Mililani and Waikele — the area was pineapples for as far the eye could see. Kids growing up in the area, including myself, have distinct memories of long trips through Kamehameha Highway through the area that would be Waipio with nothing to see but the fruit.
But in 1979, Gentry Homes broke ground for Waipio. The decline of agriculture and the success of neighboring Mililani likely factors in transforming the area into a new housing development.
While at first glance it's easy to dismiss Waipio as just another bedroom community in Central Oahu, its more than that. Homes along the Eastern side of the community command amazing views of Pearl Harbor and Diamond Head, giving a unique view of Oahu from the mountains to the sea with two of the island's most recognizable landmarks.
Just as important — Costco is in Waipio. This Costco serves the Central Oahu area, so its freeway onramps to are often congested. However, residents of Waipio can get there on surface streets. But like everyone else, they need to deal with parking.
Waipio's location to the rest of the island can best be described as "Central Central Oahu". By that I mean that it's in the middle of neighborhoods like Mililani, Waikele, Aiea, Pearl City and even Wahiawa. Jumping on the freeway or highway can take you to those neighborhoods in minutes.
Urban Honolulu is about 30 minutes away, but potential buyers should be aware that they will be dumped directly into the infamous H1/H2 interchange in the mornings.
There are also future housing developments worth mentioning. The neighboring community of Koa Ridge just broke ground in 2021. The community is being built to the north of Waipio to Kipapa Gulch.
The added population will mean more traffic on existing surface roads, especially to and from Costco and the Waipio Shopping Center and its Foodland and other shops. It also means more cars on the H1/H2 interchange, though to be fair that added traffic will affect all drivers in the general area, except for those on the Southern coastal communities (Pearl City, Aiea).
Many of the unattached single-family homes in the area were built in the late-'70s, usually with 2- or 3-bedroom/2-bathroom homes, 1,100 to 2,000 square feet.
There are no high-rise condo towers in the area, though there are townhouses. These townhouses were mostly built in the mid- to late-'80s. They usually feature 2 bedrooms/2 bath at 800 to 900 square feet. In many of these homes, you may have neighbors above or below you.
Homes in Waipio were built after 1979, making the homes newer than the homes in Mililani Town, but older than the homes in Mililani Mauka. However, because of the many shopping, dining, and recreational facilities (many of them managed by the Mililani Town Association), Mililani is often seen as a more desirable neighborhood for families.
The homes are also often newer than those in Waipahu. Potential buyers should be aware that listings for homes in Waipio are often presented with those in Waipahu because of shared ZIP codes.
They are also newer than homes in the more established neighborhoods like Wahiawa, Manoa, Aiea, Pearl City and Ewa Beach. Most of those homes were built in the early 20th century. Condos in Kakaako and Ala Moana are newer, but expect to pay a considerable premium in price and size for being able to live in Honolulu's urban core.
The homes are slightly older than the homes in the second city of Kapolei — and while the homes there are about 10 years younger, and they have many facilities administered by the developer, like Mililani, the added commute time is also a consideration when weighing where to live.
WEATHER
Like many Central Oahu communities, the weather in Waipio is very pleasant — when the trade winds are blowing. When they aren't blowing, it can get humid.
The average temperature is much like the surrounding communities with an average high in the mid 70s to low 80s and an average low of about the low 60s to low 70s. November, December and January are the wettest months.
AMMENITIES
Patsy T. Mink Central Oahu Regional Park is one of the most well-appointed parks on the island and is within driving minutes of Waipio on surface streets. The park includes 4 youth baseball fields, 4 regulation baseball fields, 4 softball fields, 20 tennis courts an Olympic-size swimming pool with 1 meter and 3-meter diving boards, and archery range. There's also plans for an equestrian center to be built. The Hanwha Eagles, a South Korean professional baseball team, also uses the facility for its spring training.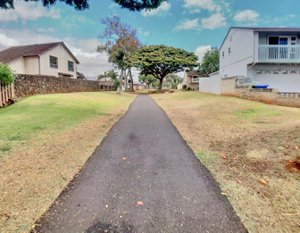 However, if you're looking for a more out-of-the-way park favored by the residents, Crestview Community Park is visited frequently. While not as big — and there aren't as many parks as large as the Patsy T. Mink Central Oahu Regional Park — it does have 2 basketball courts, 2 volleyball courts, and a baseball field.
The Waipio Community Park is also well-regarded as a good park to walk dogs at. Because of the number of dogs that also visit the park, don't be too surprised if your pooch starts making friends with the other canines.
Interestingly, the Waipio Peninsula Soccer Complex, the home field for the University of Hawaii's women's soccer team, is not in Waipio but a short ride away in Waipahu.
The North Shore is a first choice when it comes to beaches, because of its easy access via the Kamehameha Highway. Haleiwa is a good choice for those with families. Waipio's central location also allows easy access to beaches in Ewa (White Plains Beach, Oneula Beach Park and Pu'uloa Beach Park) and the South Shore (Ala Moana, Waikiki).
SCHOOLS
Kanoelani Elementary School, located in Waipio, is the elementary school for the children in the area.
Intermediate school students are assigned to Highlands Intermediate in Pearl City and high school students are assigned to Pearl City High School.
DINING/SHOPPING
Residents in Waipio have easy access to Costco and its surrounding retailers. While the offerings around Costco are mostly limited to chain restaurants like Subway and Panda Express, Fat Boy, a local plate lunch joint is worth visiting.
Also highly recommended in that area is Black Sheep Creamery for their ice cream. They make the ice cream on-premises (it's not uncommon to see the staff at Costco loading up on milk and sugar). The flavors are original and their offerings are delicious.
Pearl City and Aiea, with its shopping and dining offerings, are minutes away. This includes Pearlridge Shopping Center, Pearl Kai, Sam's Club and Walmart.
This also means the recommended eateries in the area are also within a short distance. Visit the entries for Pearl City and Aiea for more information, but I recommend Cuu Long (Vietnamese), Thai Lao and The Elephant Shack (Thai), The Alley Restaurant and The Forty-Niner (local), Boston's North End Pizza Bakery and La Tour.
—
Though Waipio is often eclipsed by Mililani, Pearl City and Aiea, this Central Oahu community is a hidden gem buyers looking for cool climates and easy access to shopping and dining options.
Don't overlook this community — take a look at our listings now!